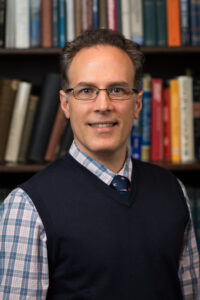 Dr. Navarro, Assistant Director, received his Bachelor of Arts in History with Honors from Rutgers University, and his Doctor of Philosophy in History from the University of Michigan. A diplomatic, political and intellectual historian by training, Dr. Navarro has taught and conducted research on a wide range of topics, including U.S.-Latin American history and U.S.-Southeast Asian relations, Western labor history, 20th-century urban history, race and racism, and issues of national identity.
Since joining the Center for the History of Medicine in 2005, Dr. Navarro has focused much of his research on the historical, social, economic, and political ramifications of the 1918 and 2009 influenza pandemics.  He was a co-principal investigator and the lead researcher on both the Center's landmark study of the use of non-pharmaceutical interventions in the 1918-1919 influenza pandemic, and on the Center's qualitative examination of school closures implemented during the 2009 pA(H1N1) influenza pandemic.  He is also the Co-Editor in Chief of the The American Influenza Epidemic of 1918-1919: A Digital Encyclopedia, and was responsible for researching and writing the site's essays detailing the experiences of 50 American cities during the deadly pandemic.
Dr. Navarro is currently researching the interplay between territorial aggrandizement and disease during the Mexican War, particularly among American troops, for a forthcoming project.
In addition to supervising the Center's large research projects, Dr. Navarro assists in developing public programming at the Center and in managing the Center's daily operations.
Dr. Navarro can be reached via email at jnavarro AT umich DOT edu, or via the Center for the History of Medicine's main telephone line, 734-647-6914.